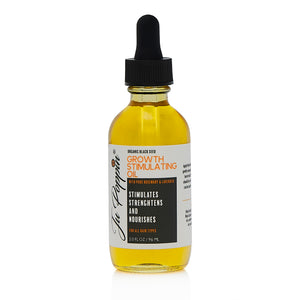 Product image 1
Product image 2
Ju-Poppin Hair Growth Oil
Amazing  HAIR GROWTH SERUM – Packed with natural extracts, amino acids.  This hair growth serum adds proprietary hair growth complexes clinically indicated to stimulate deep hair growth.

Black Seed FOR HAIR GROWTH - Black seed infused formula combined with unique clinically studied ingredients has shown to help promote healthy hair regrowth and slow down the rate of hair loss in men and women with normal-to-thinning hair.

PROMOTE HEALTHY HAIR GROWTH, THE SMART WAY -Thicker, stronger, more healthy-looking hair is not just a matter of genetics -it's a matter of nutrition, too. 
Full Ingredient List 
Black Cumin Seed, Jojoba oil, Jamaican Black Castor oil, Grapeseed oil, Safflower oil, sunflower oil, coconut oil, avocado oil, essential oil blend, vitamin e, fragrance